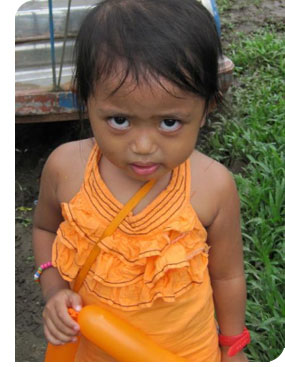 Blog from an American, Balikbayan (sort of), Family Doc on a Medical Mission
by Dr. Christine Nedeau
March 2012
I am relatively new to the Filipino community in Kansas City, so for the ones that don't know me, let me introduce myself. I am Christine Iway Nedeau, MD and practice in Family Medicine. I was born in Cebu City, but immigrated to the states when I was 3 years old and grew up in a tiny farming community in southwest Kansas. I did not learn the dialect or speak fluently until I moved back to Cebu City for medical school, thus my balikbayan description.

I was asked to contribute an article about my experience during the medical mission in Labo, Camarines Norte, Philippines. The following is taken from my blog entries during my trip.

The medical mission is a combined effort of volunteers from Philippine Medical Society of Greater Kansas City, Philippine Nurses Association, and the Rotary Club of South Platte. For the past 19 years, volunteers have been "traveling back home" to provide medical care, donate supplies, educate, and reach out to underserved communities in some of the most remote areas of the Philippines. I was one of 32 volunteers this year.

Tuesday, January 24, 2012

Left early today – 7 AM. Day 1. It's raining. It's a 45 minute ride in 3 vans to the Labo District Hospital from Daet where we are staying. We are greeted with a group of people ready to film us as we exit the van. After we do introductions, it's time to set up our workspace. Three hours later we have managed to unpack hundreds of balikbayan boxes full of equipment, medications, etc. into separate working spaces - patient registration, waiting area, check-in, outpatient clinic, OR, minor surgery, pharmacy, and storage. I'm in outpatient clinic with Dr. Pardo.

One patient that stood out for me today was a little boy named Prince. He was only 18 months old. This is a really tough kid. He sustained an electrical burn to the end of his index finger in early December. His fingertip was a black charcoal mess to his 2nd knuckle. I could barely make out a shriveled little nail. I took him to minor surgery late in the day and debrided this wound and while doing this, his tiny fingertip bone slipped out of the wound onto the gauze, and this was followed by some creamy, bloody material and then the remaining fingertip. I did my best to clean the remaining finger and close the wound. This boy sat on his mommy's lap patiently. He barely whimpered with the injection of anesthesia. What 18 month old kid do you know in the US that could tolerate this? His mom was very grateful. He got a stuffed lion and was thrilled.

It's amazing how little we need to practice medicine - a stethoscope, some hand sanitizer (no running water in my outpatient clinic), gloves, a mask, scalpel, bandages...

Grand Totals for Day 1: patients seen in outpatient clinic - 238; 2 gyne surgeries, 5 cleft lip/palate repairs, 26 mass/tumors excised; hundreds of samples of vitamins and various meds given, hundreds of Rx antibiotics given. Pretty good for a 6 hour day. I'm proud to be part of this team. I feel like we're making a difference.

Day 2

Again up at 5:30 AM today. The second day of the mission is usually pretty crazy and this definitely lived up to that! Word got out that we were here. We had visits from the governor, had cameras taping us for a Manila TV news station, had the Filipino army come to greet us and show support, along with the sea of patients to see. It rained all day off and on. Muggy. I am grateful for an AC unit in our examining room - it barely runs, but at least circulates air. I found that it's actually cooler outside our room than inside so we started propping the door open and it's much better!

Whole families would come in together to be evaluated. Complaints are varied - URIs, dizziness, fatigue, joint pain, headaches, chest pain, pain with breathing, abdominal pain, gall stones, ovary cysts, diarrhea...similar to what I see in the U.S. We triage these patients if needed.

Here's the difference: these simple, sweet people can't afford to see a doctor for even the simplest reasons. They have no money for medications. They have no money to travel to see a doctor. Many came in barefoot, teeth rotten, embarrassed that I was looking in their mouths; symptoms usually present for years. We have less than 100 different medications, including prescriptions and OTCs, however, getting any type of medication from an "American doctor" means more than we will ever know. Lots of patients with severe hypertension knew about their high BP readings but could not afford to continue taking their medications so stopped or took them irregularly to make the Rx last longer.

Joel was pulled into the eyeglasses clinic, along with some of the other non-medical members of the team. They screened vision and gave away reading glasses if they found a pair that improved their vision. I think there were more patients lined up here to have screening done by the big, handsome American man! Who cares if there was really a vision problem or not!

Today, I felt dizzy. I saw so many patients that I literally had to stand up and walk away at one point. I decided that I need to take a break every couple of hours to drink some water, find a bathroom, and get some air. I wouldn't dare complain out loud though - this is mild discomfort compared to what these folks live with on a day to day basis at times.

We did get to meet a kalabaw (water buffalo) that was tied to a clump of grass just behind the hospital. We named him "Gus." I don't think he spoke English.

Grand totals: 9 hours; 430 patients seen; 1 complicated vaginal hysterectomy; 1 other gyne surgery; 3 cleft palate/lip repair; 3 inguinal hernia repairs; 26 or more tumor/mass excision; 70 pairs of glasses provided; hundreds and hundreds of medications dispensed.

Good day.