In Hawaii they say Aloha. In the Philippines we say Mabuhay. It is a warm welcome from a truly sincere and hospitable people. Filipinos are a sociable group with strong family ties. So join us and share the joy and togetherness that is the Filipino Association of Greater Kansas City!
Fiesta Filipina: A Celebration of Culture and Community
Posted May 30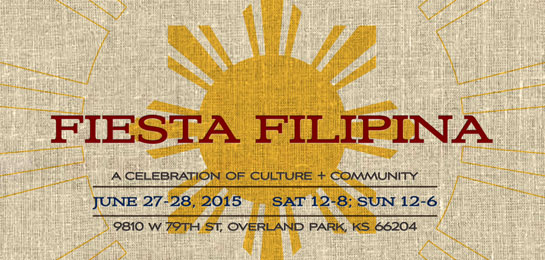 Our biggest summer activity returns as Fiesta Filipina, an annual showcase of Filipino culture, food, dance, music, and games, takes place at the Filipino Cultural Center the weekend of June 27-28.

The Fiesta commemorates Philippine Independence and will feature: a sampling of favorite Filipino cuisine, performances by the Sinag-Tala Dance Troupe and Sampaguita Choir, and arts and crafts from various vendors, among others.

Visit the OFFICIAL EVENT WEBSITE for more info!


RSVP for Parents' Day Celebration
Posted May 12

The Senior Council hosts an annual dinner-dance. Parents' Day provides an opportunity for children and adults to honor both their parents and grandparents for their dedication, love, and support. So come and bring your parents — and show how much you appreciate them on this special day!

This year's theme is "Come to the Cabaret." Cocktails at 6 PM; followed by dinner at 7 PM; and then it's dancing until midnight! $35 for members; $40 for non-members. More...
Volunteers: Start Your Engines!
Posted April 24

The Filipino Association will again staff a concession stand at Kansas Speedway for the upcoming NASCAR series races on May 8-9, which will be a 2-day event (Friday-Saturday). We need your help! Approximately 25-30 volunteers are needed each day. Must be at least 18 years old; or 16 with parental consent. If you are interested in helping, please fill out a volunteer form. Additional details and directions will be communicated as the event draws near. More...