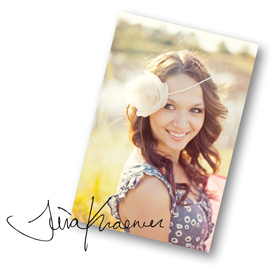 Our Faces in the Community: Tina Kraemer
by Nescelle Caberto
April 2012
Tina Kraemer is the portrait, wedding, and boudoir photographer behind Pure in Art Photography in Overland Park, Kansas. She has a super awesome doctor-to-be husband and one sweet fluffy puppy, Lincoln, who keep life fun and VERY busy! To see more of her photography, visit her website, or follow her on Facebook, Twitter or Pinterest.

What is your background and how did you get started?

I graduated with a degree in Graphic Design from Mid-America Nazarene University in 2008, where I had taken a couple photography courses and instantly fell in love with composition and the technical aspects of photography. I started incorporating what I had learned in my graphic design courses into photography, such as editing and design. A few months after I graduated, a couple I went to college with asked if I would shoot their engagement pictures and from that I quickly got referrals to photograph several families, children, and engagements. In 2011, I shot and assisted with 21 weddings in the Kansas City area. This year I plan on focusing on weddings, boudoir, and portraits, and continue to develop my style of photography, which I would describe as bright, timeless, and romantic.

How long have you been in business? How's that going for you so far? Do you work anywhere else? If so, how do you juggle your life?

I started my own business, Pure in Art Photography, in January of 2011. My business has really taken off and it has been a blessing to be asked into the lives of my clients to capture who they are in this time of their life. I love everything about photography, from the first consultation where I get to meet and learn about my clients, to making people laugh, have fun, and show their true personalities during the shoot, and then handing them the final album or canvas to proudly display their new pictures in their home. I attend several photography meetings and workshops every month with other local photographers and have learned to connect, grow, and push myself with the support of my new friends in this industry.

I also work full-time as a Marketing Manager and Graphic Designer at a biomedical laboratory in Lenexa, Kansas, run a freelance graphic design and logo illustration business, as well as support my husband, Cody, through medical school at the University of Kansas who is pursuing to become a surgeon. It hasn't been an easy road balancing everything in my life, it has required an immense amount of time, energy, and practice, but I know I would not be where I am today had it not been for this investment. I am a very goal-oriented and motivated person, and am super excited for what my future holds!

What other activities/organizations are you involved in?

I am a member of WPPI, Wedding & Portrait Photographers International, and plan on attending the yearly conference & trade show they put on every winter in Las Vegas. I love ballroom dancing and performing with Paco Dance Academy, located in Mission, Kansas. We perform at the Filipino Medical Ball and September Affair events every year. I am very involved with my church, Living Hope, in Olathe, Kansas, singing in the worship team, assisting with the 3-4 year old Sunday school classes, and occasionally doing some graphic design. All of these activities help me to balance my life with fun, hard work, and giving back to others and my community.

Business Contact Info

Tina Kraemer
Pure in Art Photography
pureinart@gmail.com
913-486-3929

Limited 2012 Saturday wedding dates still available.