Typhoon Haiyan Relief Benefit Concert




Sunday, December 8, 2013


5:30-8:00 PM, Rockhurst High School - MAP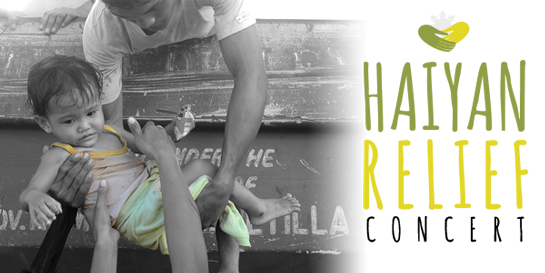 Earlier this month one of the strongest typhoons on record battered the central islands of the Philippines. "Haiyan" made landfall at Guiuan, and continued to plow through Tacloban, Ormoc, and throughout the Visayas. The now familiar numbers reported are staggering – sustained winds of 150 mph; waves as high as 15 ft; more than 5,000 confirmed dead; 4 million displaced; 12 million overall affected. The UN has remarked that the scale of destruction is unprecedented.


Show your support for those most in need! The Filipino Association, in cooperation with Rockhurst High School, will have a concert on December 8 at the Rose Theater in Rockhurst HS. This event benefits those affected by Typhoon Haiyan in the Philippines, and will feature performances by local artists and musicians. It is sure to be an entertaining and engaging program.
Admission is by donation only – one ticket will be issued per donation receipt.*  Suggested levels are $10, $25, and $50. Children 12 and under are free. Register below or at the door. Doors open at 5:30 PM.
Register/Donate

*After completing your donation, print your receipt and bring it to the concert.


Where does your donation go?

Proceeds will go to a planned medical mission to the Philippines in January; and to Gawad Kalinga, a Philippine based movement that aims to end poverty through community building.

Philippine Medical Mission



Volunteers, including those from the Philippine Medical Society and the Philippine Nurses Association, will embark on a medical mission in January.

They have over 20 years of experience in effectively delivering medicines, supplies, and services to those in need.

$1 = a week's supply of antibiotics for a child or adult
$5 = a month's supply of heart meds for one

Gawad Kalinga



Operation Walang Iwanan ("Leave No One Behind") is distributing food packs containing a combination of rice, canned goods and water.

More than 60,000 food packs have been already distributed, and the target is to deliver 200,000 food packs in the next 2 weeks. Planning is already underway for the reconstruction phase.

$5 = 4-5 meals for a family of five